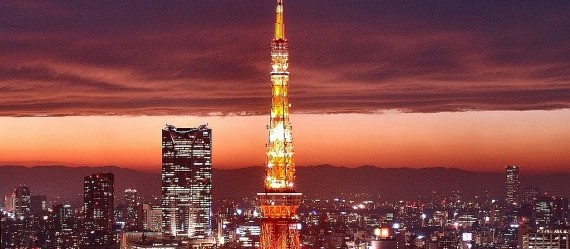 A Trip to Tokyo, November 2011

After a long trip to Tokyo, we booked into New Otani Hotel. It is like a small town with lots of shops, boutiques and restaurants with marvellous Japanese ornamental gardens.
Needless to say that on the first few days jet lag took its toll on us. We had gone to Japan to meet up with few local agents, visit friends and why not: do some sightseeing.
The main venue during our visit was the Instituto Cervantes in Tokyo. The people there really made us feel at home. The director, Victor Ugarte had arranged an incredible reception with typical Spanish cuisine including paella and red wine from homeland Spain. He was kind and showed us around the facilities, most of which he had designed himself.
Tokyo is a city with a lot to offer. With some background research you come across undreamed and unseen places and people. One day as I was strolling along Ginza Street, which is the area with exclusive designer name boutique from all over the world, I came across a restaurant which looked pretty inviting, and as it served typical local dishes I decided to try it out. Inside I was invited by a Japanese couple to share my meal with them. He turned out to be a local artist and we somehow managed to start a long and interesting conversation, in poor English, about the typical aspects of our cultures.
You really need to visit Tokyo's traditional places. Asakusa is a typical street market with souvenir shops and shops with great food variety. This place is frequented by tourists who enjoy its colourful and traditional ambient. At the end of the Asakusa there is a great temple, where the locals pray and make their offerings.
Don't miss Tsukiji, the world's largest fish market. You can find any kind of fish, seafood or mollusk which look pretty different from the ones here in Spain.
Be careful not to be run over the little vans which are always moving up and down the market.
I had never seen so many tuna fish under one roof. And how sharp were the knives, which looked like swords, used to cut the fish. The art of slicing the tuna fish is similar to that of ham-cutting here in Spain.
Other places worth visiting:
Akihabara is where electronic-devise enthusiasts would feel at home.  You can find the latest gadgets out on the market.
Cross the famous diagonal crossroad at Shinjoku and also see the statue of Akita- the faithful dog.
However what I really found surprising is the symbiosis between Japanese traditionalism and North American consumer capitalism. It is interesting to see how adults have a fascination towards Disney cartoons and characters.
Also fascinating is how law-abiding the citizens are. I don't really know whether it was just a first impression or in fact a need. From a Spaniard's viewpoint there are too many rules and regulations and if a foreigner does not abide by them, they have no idea how to deal with it.
Tokyo is a really clean, well-kept and quiet city, despite the millions of people who live there.
A visitor to Tokyo is bound to come back again attracted by its charming and surprising character.
https://iiischools.com/wp-content/uploads/2012/03/Tokyo-Tower-at-night-e13321769299361.jpg
249
570
Ali
https://iiischools.com/wp-content/uploads/2017/01/Logo-III-288x156.png
Ali
2012-03-23 12:31:26
2017-04-17 09:06:25
A Trip to Tokyo