Meet a member of our staff

In previous posts we have interviewed members of staff so as to bring you closer to the professionals who work at the III Schools. This week we interview Manuela, one of our teachers and also a member of the Summer Camp team.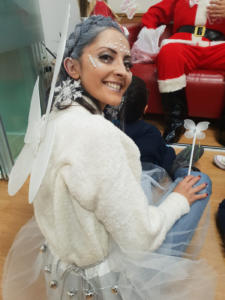 Manuela is a real team player and always volunteering to give everybody a hand. She is very special to us for her positive spirit and immense creativity as she is always full of great ideas and comes up with colourful and original activities. One word which would describe her attitude to work is professionalism. We have asked her some questions to get to know her better
How did you start in III? "My start with the school was quite a coincidence, though I think it was destiny more than anything else. I was still living in London when I saw an advertisement on Facebook about the academy so I decided to send in my Cv. After a few months, when I had already come back to Marbella, I received a call from the III. And the coincidence was that very same day I was meant to sign a contract with another company. The decision was quite easy, and I opted to work at the III. That day changed my working life."
What do you enjoy most about your job? "Although it is difficult to explain, I would say the best word to summarize what I do is just about 'everything'. I do admit feeling proud of my adult students in my Spanish classes because I see their improvement or having the opportunity to talk to people from different parts of the world; and of course my very young learners who are always full of energy. You never get bored with them."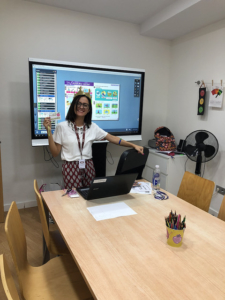 And the most difficult thing for you? " Facing a demotivated student. It is hard when you try everything out but which gets little response. But, whenever I get their interest, the reward is immense satisfaction. So I guess even this situation can be positive for me.
And finally, what we have been asking everybody. Describe the company in a few words. "It is one of a few companies, or perhaps the only one that I know that appreciates equally motivation and experience. I feel that it is like an open door before me, with a world of possibilities. I have changed positively both personally and professionally thanks to a group of professionals whom I work with and who also have become my friends. So I also use the word family to describe III schools."
A word of gratitude to Manuela for her time and her kind words. She is also a fundamental part of our family.
https://iiischools.com/wp-content/uploads/2019/03/Manuela-1-e1554062674252.jpg
626
1379
Anna Vinciguerra
https://iiischools.com/wp-content/uploads/2017/01/Logo-III-288x156.png
Anna Vinciguerra
2019-04-24 11:00:13
2019-04-24 13:19:04
Meet a member of our staff