To mark the National Book Day on 23rd April in Spain, our students organized something special.
The Book Day celebration started many years ago. Initially it was held on 7th October, but it changed to 23rd April due to the coincidence with the dates of birth or death of some prominent figures of literature like William Shakespeare, Miguel de Cervantes or Garcilaso de la Vega to name a few.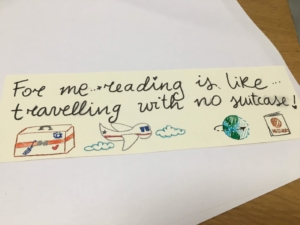 Reading is an important aspect of our students' learning process, as explained in another post published earlier this year CLICK HERE. The ability to see both vocabulary and grammar in use give our student the chance to reinforce and enrich their English every time they read a book. Our already known BOOK CLUB is equally essential for our teachers. We can actually see how our students take huge steps forward in their language improvement, and keeps up their motivation in class.
The best complement for a book is undoubtedly a book mark. And that is what we made in class for the Book Day- a very simple object that our student changed into something special and unique.
We asked what reading means to them and their answers were written on their beautiful book marks. These will be present in every book they read and will go to every adventure and world they explore.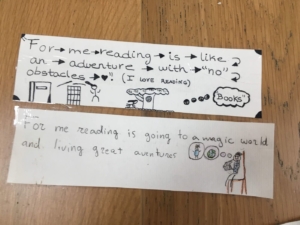 They tell us when they read they feel free, and capable of everything. Limits, barriers and obstacles disappear before their eyes. They are able to travel without a heavy suitcase, with no worries, only with their imagination and their dreams. These beautiful phrases come with very special pictures which show their creativity.
We are very proud of their job and thanks to our team for this very nice idea.
https://iiischools.com/wp-content/uploads/2019/04/bookday-all.jpg
1050
1400
Anna Vinciguerra
https://iiischools.com/wp-content/uploads/2017/01/Logo-III-288x156.png
Anna Vinciguerra
2019-05-08 11:00:40
2019-05-08 11:55:38
National Book Day