What would you like to be?

From a very young age we have millions of ideas and dreams. Dreams we hang on to and which start taking shape as we grow. Adults are obsessed with planning ahead and with future visions, and we always ask our little ones what they want to be when they grow up and they have firm ideas, and would do anything to achieve them.
We couldn't resist getting to know what our young learners would like to be while they were studying different jobs and the routines involved in class.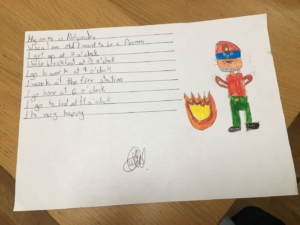 Among their future plans, we could clearly see the idea of changing the world, filling it with colours and beautiful thoughts.
Alejandro and Ainara want to be fire-fighters. Well, more than anything the fire-fighters in their pictures look like heroes. When we asked them why they said: "We want to help people so they don't feel afraid anymore".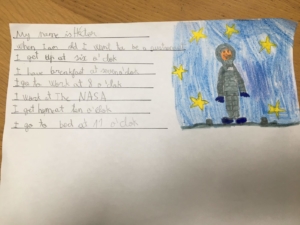 Héctor is ready to become an astronaut and go into space. We can see how well equipped he is. He even has a super moustache! Héctor wants to be an astronaut so he can explore what his eyes can't see.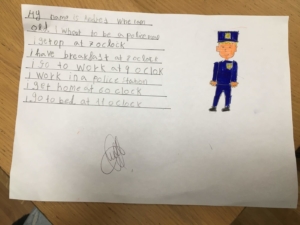 Andrés is also wearing a uniform. He wants to be a policeman. He can picture himself "arresting the bad guys. And you don't have to wear a cape to be a superhero", he insists convincingly.
Erika wants to be a teacher one day. She loves little kids and she hopes to take care of them while their parents are at work. "I want to teach them to be good people, so we will have fewer problems in the future".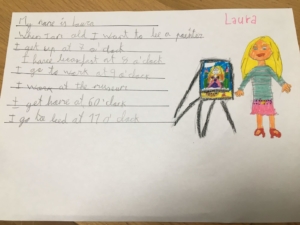 Laura is a great artist and she wants to work in a museum. She told us: "Whenever I feel sad I start painting, so working in a museum and painting mean that I will always be happy".
The truth is that kids' imagination is infinite. We really hope they can reach their goals when they grow up. What we are sure about is that languages won't be an obstacle for them.
https://iiischools.com/wp-content/uploads/2019/02/IMG_6069.jpg
1050
1400
Anna Vinciguerra
https://iiischools.com/wp-content/uploads/2017/01/Logo-III-288x156.png
Anna Vinciguerra
2019-02-06 11:00:17
2019-02-08 10:26:07
What would you like to be?